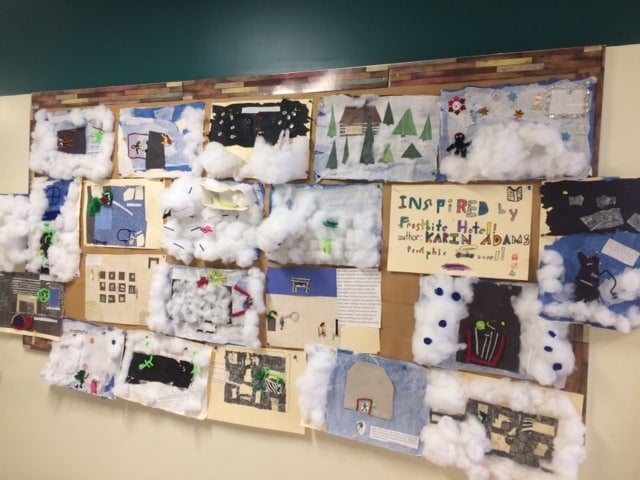 Hello my friends from 4C at R.W. Bobby Bend School!
I received your wonderful – and very bright and colourful – letters about Frostbite Hotel a few weeks ago. I had so much fun reading them and wanted to say a big THANK YOU for all of your comments, suggestions and questions! I enjoyed learning a bit about all the writers, mystery writers, hockey players, artists and video game enthusiasts among you. Also – no – I did not know the total number of metaphors and similes I used in the book, so thank you for that information (and I promise that I tried not to cheat when reading your letters – LOL).
It was exciting to hear that you read my book (and how awesome that your class got so many copies – thank you!). I loved seeing the picture of your wall of art as well – very creative and 3-D in the true Scraphic style.
Back to those letters: in addition to the comments and suggestions, many of you had questions. I've tried my best to answer them below. I combined some of your questions if they were similar to each other so you wouldn't have to read the same thing again and again. (SPOILER ALERT – if you're not in 4C and haven't read Frostbite Hotel, some of these answers may reveal story information!)
Here it goes:
How many books have you written? Are you writing any other books?
As of this moment, I have written five books that have been published. I have written other stories, scripts, poems, plays and even songs that I've shared with friends and family…or just for me! I am writing two new books right now, one non-fiction (about writing) and a fantasy novel (that's new for me – but I'm having fun with it).
What's your favourite book that you've written?
Hmmm…that is SUCH a hard question to answer. I enjoyed writing and sharing all my books, but Frostbite Hotel certainly has a special place in my heart. I like the fun story (it makes me think of me and my friends at winter recess time many years ago!) and it's the book that's helped connect me to the most readers (like all of you in 4C).
Do you like being an author?
Yes, although it isn't always easy. My two favourite things about writing books: when the story comes alive and I forget to look at the clock when I write, and sharing stories with readers like you (and hearing from you)!
Why did you put a bully in the book?
I knew that Kirby had to have conflicts to face so that he could try and grow and fall down and get back up again as he went after his goals. Sometimes conflicts happen between people (even though we wish they wouldn't), and for Kirby, The Bear and his buddies were definitely a source of conflict. Also, as I wrote the story, I realized that Kirby himself and Jeannie aren't always the best 'hotel bosses'; sometimes they too are just making their friends do what they want them to do. So, in a way, they have to figure out how to go after their dreams without becoming bullies themselves…
I have thought a lot about The Bear though since writing Frostbite Hotel, like what made him think it was a good idea to boss others around and why he felt he had to be 'in charge' of the school yard. I wonder if he might now change his ways seeing how things turned out…What do you think?
Why didn't Marvin just go around Christmas Orange?
 What a good point! When I wrote that scene, I was thinking about the first few times that I used snow shoes —  if you haven't practiced that much, they're not that easy to walk around in, and it's hard to quickly change direction (especially when you're running). At least that's what I found. Maybe Marvin (like me) needs more practice! 🙂 Also, I picture Christmas Orange spinning and spinning in such an out-of-control way, that Marvin can't move away fast enough. 
What is your favourite part of the book?
I have lots, actually. I love the cozy opening scene: video games in Kirby's room while a snow storm howls outside. I love the Magic Monday tradition in Kirby's class. I love the hockey and snowshoe scenes, and I had fun writing the scene where Kirby pictures a ninja creeping across the school ground and starts thinking about a spy…Also, the scene where Jeannie squirts the boys with her ginormous soaker squirter. (I wasn't even planning to add that – Jeannie was just going to chase Marvin and Kirby, then all of a sudden as I was writing I saw the garage door open and Jeannie with the huge soaker…I had to add it in! LOL).
Well – I think I just mentioned almost everything in the book! I guess I must enjoy writing…
Will you write a Frostbite Hotel 2?
I haven't yet written a book that has a sequel, but I have a few ideas that might just work for a 'Frostbite Hotel 2'. I would definitely have to spend some more time working out the details, though…I guess we'll see!
Thanks again 4C for your letters and questions. I hope I answered everything!
I also hope that you're finding a good balance between school work, creative fun, and family time these days.
All the best and have a great day!
Karin Adams