I had an exciting chance to enjoy a 'bonus round' working with young writers this April and June (I usually know where I'm going to be for the year in September, so this was a totally wonderful surprise!). Thank you to the Grade 4s of Room 203 at Ecole Riviere Rouge for welcoming me into your classroom to 'talk writing'. I first met you all in February during 'I Love to Read Month' where we connected over a fun reading, and your GREAT questions. I loved being able to return to your school to share my process with you and hear your ideas about writing and the whole wonderful world of stories.
Here's your list of unique action words that we brainstormed together (I had to keep returning to the board to add more of your words even when we'd moved on to something else… LOL):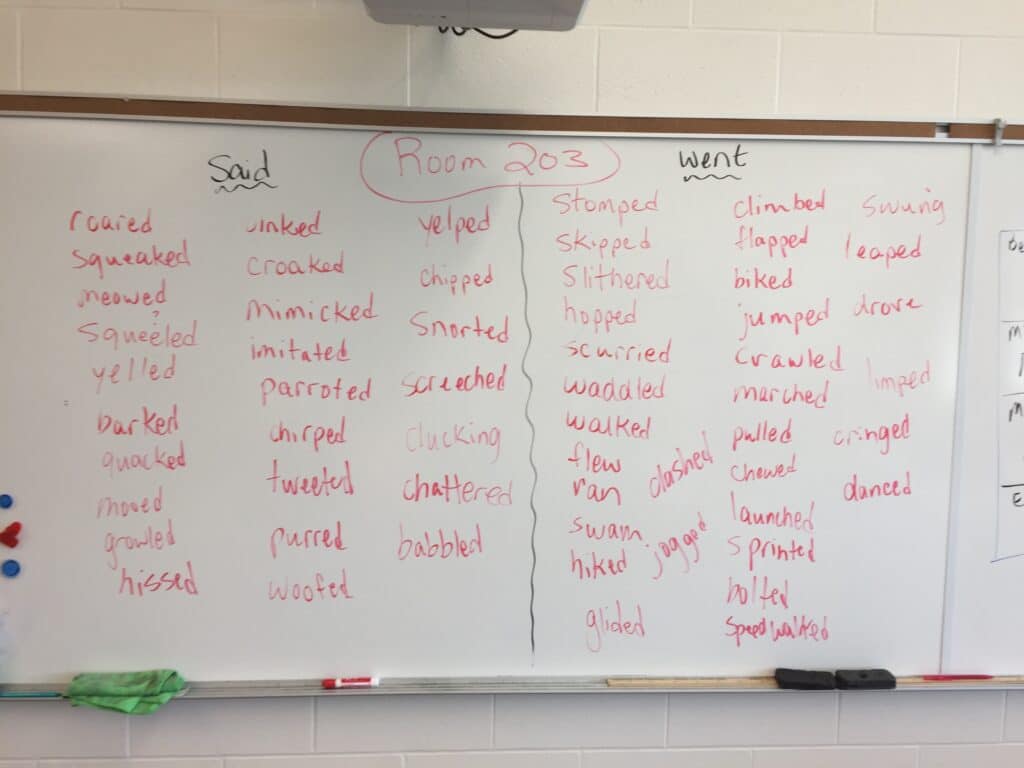 Something unique about our time together was exactly that – 'time'! There were some BIG breaks between our visits. That can be a challenge because I know you had so many projects, events, and activities  in between (even I had lots going on – like heading to New Brunswick and back, LOL). Sometimes we forget what we're writing about or lose some of the excitement when too much time passes by… But it's also kinda how the whole writing process often works – sometimes we need to let our ideas brew and stew over time, and like a delicious stew they may get more and more flavourful. So – good for you all for hanging in there, and patiently going back to your character web, 5 senses web, storyboard and other notes each time. I think your stories grew (and are growing) because of this patience and determination!
A big highlight for me happened on our very last day. I was talking about revision and how it can be a fun, creative and exciting part of the writing process. I'm not sure that all of you believed me at first (LOL) but I think you proved to yourself just how creative revisions (and you all) are! After looking at a first draft of a sample story that I brought in ("Ruby and the Ball"), the whole class let out a big group "meh". But then I asked you what you liked about this story – even though it was kind of "meh" – and the ideas started to fly. Then, by zooming in on the parts we liked and then expanding them with some of the techniques we practiced (starting with a hook, using the 5 senses, showing instead of telling, and using impact words), suddenly we were in a creepy rain forest that was closing in on us with mucky mud, dripping rain, and a lack of cell service…we went from "meh" to "marvelous", and we were just getting started!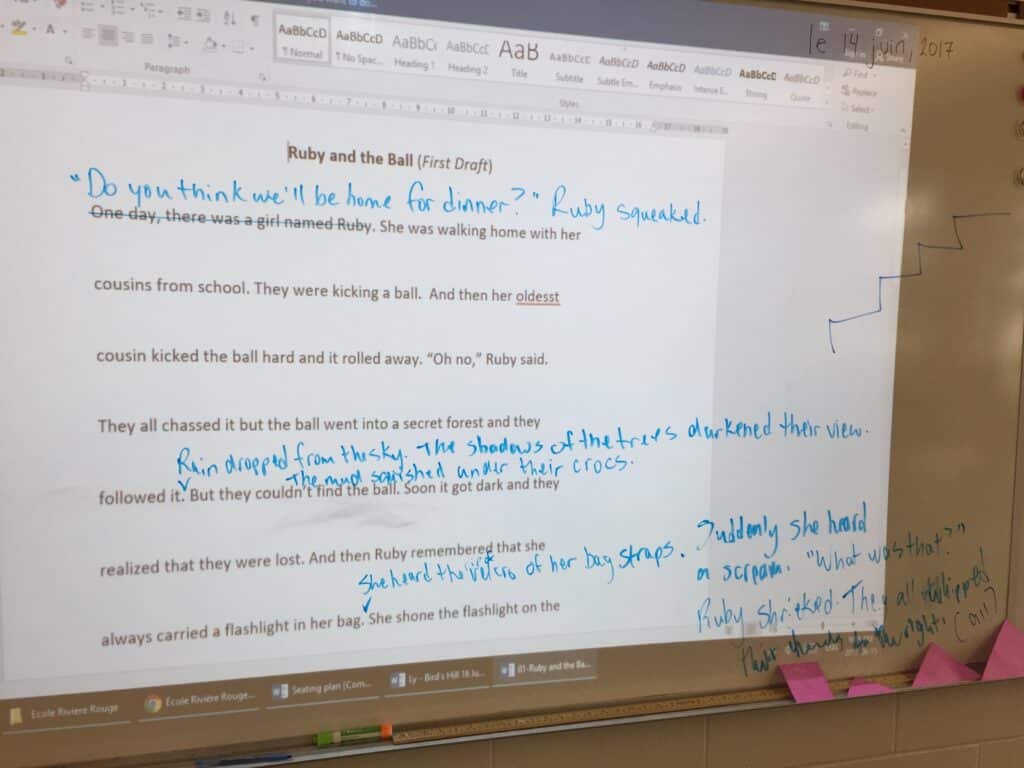 (I know that it's June and I know you're busy getting lots of things done, but if you do some more work on this story as a class, let me know – I'd love to read it and post it!)
It was great meeting you all Room 203, and I hope we can work together in the future. Have a great summer doing some things you love (hope that includes reading and writing some stories!).
Till we meet again,
Karin 🙂