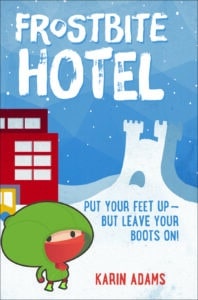 Grade Five budding businessman Kirby Katz plans to make a profit running a 'snow hotel' at recess. The trouble is, The Bear and his nasty crew of Grade Sixers have built a hotel of their own. Not only that, each time Kirby comes up with a fresh idea, The Bear has beat him to it! As the coincidences pile up like snow blocks, Kirby begins to suspect that one of his friends may be betraying Frostbite Hotel's best business secrets to the competition…
I'm excited to share Frostbite Hotel with you and know you'll enjoy meeting Kirby, Marvin, Jeannie and the rest of the gang (even The Bear…if you dare! 🙂 ). Fun doodle-art throughout the book adds to the fun…a great read to warm up your winter (or cool down your summer!)
---
Read an excerpt from "Frostbite Hotel"
(from CHAPTER ONE – "IDENTIFY A PROBLEM")

. . .

"What if we don't build a fort this year," Kirby mused aloud. He began to pace again.

"We'd be nuts," said Marvin matter-of-factly. "Everyone builds forts."

"What if instead we built a hotel." Kirby tore the Golden W brochure off his bulletin board and held it over his head. "A hotel made out of snow!"

"O…K…?" Marvin said slowly, clearly confused.

"Think about it! Forts are meant to be battle zones. They get everyone worked up and defensive and stuff. That leads to snow wars and fort bans — just like last year," Kirby explained. "But a hotel is different. A hotel is relaxing. People will come to our place to unwind, to rest — not to fight."

"What happens if The Bear and his buddies wanna wreck it?  Do we just say 'Stop. You can't. It's a hotel, not a fort.'"

"But that won't happen in the first place," Kirby said. "Not if we do it right. A hotel will change the whole feeling of recess. It will change everything!"

Marvin shrugged and shook his head. He didn't look convinced. Checking the alarm clock on the nightstand by Kirby's bed he said: "Better get home." Marvin stooped down to pick up his blue hoodie from the floor.

"Okay. Just one more thing," Kirby said. He leaned forward and lowered his voice. "We can charge."

Marvin dropped his hoodie. "Charge?" he said. "You mean, get paid?"

Kirby smiled knowing he'd finally captured Marvin's interest. "A hotel is a business, right? You want to stay, you have to pay. Problem, solution!"

"But what would we charge, Kirby?" Marvin asked. "It's not like everyone carries around sacks of gold at recess."

"Everyone's got something on them," Kirby said. "What about snacks? Trading cards? A few bits of change? It all adds up!"

Kirby studied Marvin's face as a hungry, eager energy coursed through his body. A hotel made of snow? Genius! Plus, Kirby would be a real entrepreneur running not just any business, but a hotel business just like his hero! Sure, his hotel would be made of snow, but William T. Williamson always praised people who came up with unusual ideas. He called it "thinking outside the box."

. . .
Purchasing a copy of "Frostbite Hotel"
You can ask for "Frostbite Hotel" by Karin Adams at your favourite local bookstore. It is published by James Lorimer & Company Ltd. ISBN(hardback): 9781459407077 ISBN(paperback): 9781459407060 or ISBN(e-book): 9781459407084.
Or, here are a few places where you can order online:
CANADA



USA

Worldwide
Frostbite Hotel is carried by most major booksellers around the world! To find an online seller in your country, or just want to see more shopping options, you can do a web search for "Frostbite Hotel" by Karin Adams.